Structure of the month - September 2010
Science Signaling Vol. 3, pp119 (2010).

Evolution of CASK into a Mg2+-sensitive kinase
Konark Mukherjee1,4*, Manu Sharma1*, Reinhard Jahn2, Markus C. Wahl3*, and Thomas C. Südhof1*
1 Department of Molecular and Cellular Physiology, Stanford University School of Medicin, 1050 Arastradero Rd., Palo Alto, CA 94304, USA
2 Max-Planck-Institut für Biophysikalische Chemie, Neurobiologie, Am Faßberg 11, D-37077 Göttingen, Germany
3 Freie Universität Berlin, Fachbereich Biologie, Chemie, Pharmazie, Institut für Chemie und Biochemie, AG Strukturbiochemie, Takustr. 6, D-14195 Berlin, Germany
4 Biology Department, Brandeis University, MS008, 415 South Street, Waltham, MA 02452-9110

* to whom correspondence should be addressed.
KM: konark@Brandeis.edu
MCW: mwahl@chemie.fu-berlin.de
TCS: tcs1@stanford.edu


Abstract
All known protein kinases, except CASK [calcium/calmodulin (CaM)-activated serin-threonine kinase], require Mg2+ to stimulate the transfer of a phosphate from ATP to a protein substrate. The CaM-kinase domain of CASK shows activity in the absence of Mg2+; indeed, it is inhibited by divalent ions including Mg2+. Here, we converted the Mg2+-inhibited wild type CASK kinase (CASKWT) into a Mg2+-stimulated kinase (CASK4M) by substituting four residues within the ATP-binding pocket. Crystal structures of CASK4M with and without bound nucleotide and Mg2+, together with kinetic analysis, demonstrated the Mg2+ accelerates catalytics of CASK4M by stabilizing the transition state, enhancing the leaving group properties of ADP, and by the γ-phosphate of ATP. Phylogenetic analysis revealed that the four residues conferring Mg2+- mediated stimulation were lost from CASK during early animal evolution, converting a primordial, Mg2+-coordinating form of CASK into a Mg2+-inhibited kinase. The emergence of sensitivity to inhibition by Mg2+-conferred regulation of CASK activity by divalent cations in parallel with the evolution of the animal nervous system.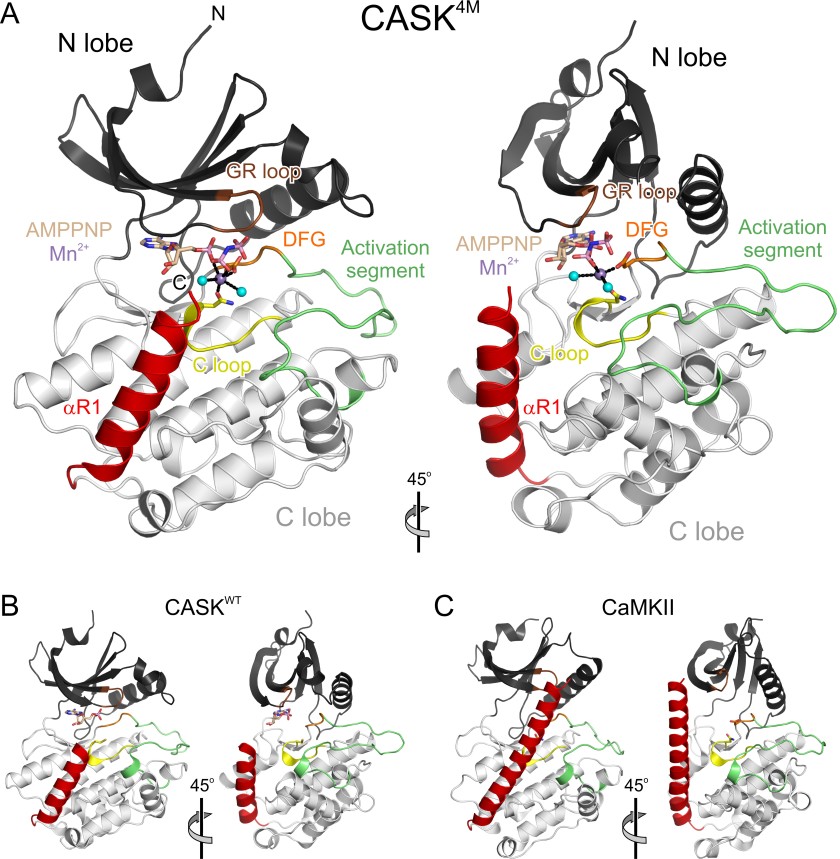 Figure 1. Overview of the CASK4M-Mg2+-AMPPNP crystal structure. A) Orthogonal ribbon plot of CASK4M CaM-K kinase domain with landmark functional elements colored. Gly-rich loop (GR-loop) - brown, catalytic loop (C-loop) - yellow; DFG motif of the Mg2+-binding loop - orange; activation segment - green; C-terminal Ca2+-CaM-binding element - red. AMPPNP and residues Asn146 and Asp162, which coordinate the Mn2+ ion, are shown as sticks and colored by atom type. Carbon - beige; oxygen - red; nitrogen - blue; phosphorus - pink. B) Structure of CASK CaM-K kinase domain in complex with AMPPNP (sticks) lacking a divalent metal ion [β and γ phosphates disordered; pdb ID 3C0H; (21)] in the same orientation as the CASK4M CaM-K kinase domain in A. Cys146 is shown as sticks. Functional elements are colored as in A. C) Structure of CaMKII kinase domain [pdb ID 2BDW; (28)] in the same orientation as the CASK4M CaM-K kinase domain in A. Asn140 and Asp156, whose equivalents in CASK4M2+ ion, are shown as sticks. Functional elements are colored as in A.