Structure of the month - September 2013
Sub-Ångström resolution crystallography reveals physical distortions that enhance reactivity of a covalent enzymatic intermediate
Stefan Lüdtkea§, Piotr Neumannb§, Karl M. Erixonc, Finian Leeperc, Ronald Klugerd, Ralf Ficnerb and Kai Tittmanna*
a Albrecht-von-Haller Institute, Göttingen Center for Molecular Biosciences, Germany
b Institute of Microbiology and Genetics, Göttingen Center for Molecular Biosciences, Georg-August University Göttingen, 37073 Göttingen, Germany
c Department of Chemistry, University of Cambridge, UK
c Davenport Chemical Laboratories, Department of Chemistry, University of Toronto, Canada
§ Both authors contributed equally to this study.
* Corresponding author: Kai Tittmann, Albrecht-von-Haller Institute, Göttingen Center for Molecular Biosciences, Germany
E-mail: ktittma@gwdg.de
Phone: (+49)551-391-4430, Fax: (+49)551-395-749
Abstract
It is widely recognized that enzymes promote reactions by providing a route with a transition state that is reduced in energy in a "top-down" manner. In principle, further rate enhancements could be achieved if reaction intermediates were prevented from relaxing to their lowest energy state so that the barrier to the subsequent transition state would be reduced in a "bottom-up" manner. Here, we report sub-Å resolution crystal structures of genuine covalent reaction intermediates of the thiamin-dependent enzyme transketolase. These structures reveal a pronounced out-of-plane distortion of over 20° for the covalent bond linking the thiamin cofactor and substrate, and a specific elongation of the scissile substrate carbon-carbon bond (d > 1.6 Å). The results implicate a reduced barrier to the subsequent step that is consistent with the "bottom-up" mode. In order to achieve these distortions, the protein's conformation appears to prevent relaxation of a substrate-cofactor intermediate, leading to a more efficient overall process.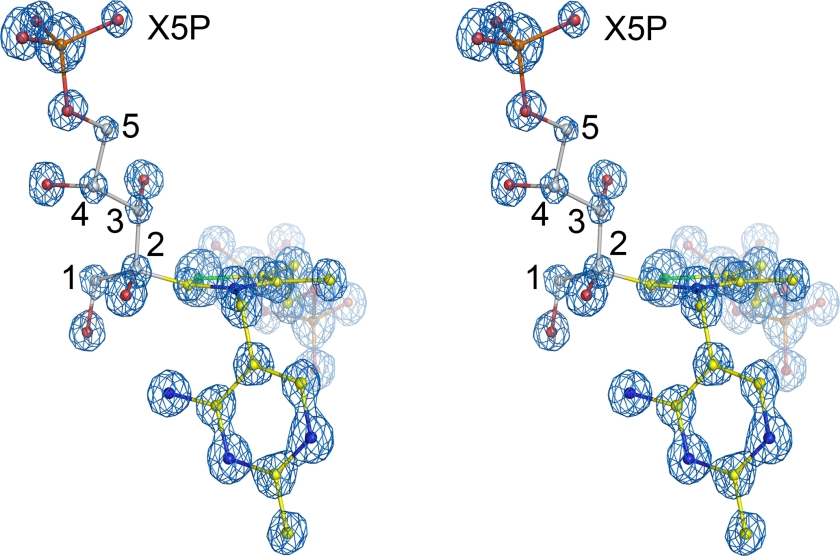 Figure 1.
Crystal structure of the covalent reaction intermediate formed between the thiamin cofactor and substrate D-xylulose-5-phosphate (X5P) at the active site of human transketolase showing the final refined model of the intermediate with corresponding 2mFoDFc electron density map (blue, contoured at 3.5σ) in stereo view. The carbons of the substrate X5P are labeled.
Figure 2.
Close-up of the intermediate highlighting the out-of-plane distortion of the C2-C2x bond relative to ring plane of the aromatic thiazolium nucleus of thiamin shown in grey. Bond-lengths of carbon-carbon bonds (in Å) are indicated including the estimated standard deviations in parentheses obtained by full-matrix refinement using SHELX-2012. The scissile C2x-C3x bond of the substrate is highlighted. Note the elongated C2x-C3x bond of the substrate (bond length shown in red) compared to non-scissile bonds of the substrate, which implicates a reduced bond dissociation barrier.