Structure of the month - September 2007
Cell Vol. 129, 2007, Pages 891-902
Structure-based Pathogen Design - Extending the Host Range of Listeria monocytogenes
T. Wollert1, B. Pasche2, M. Rochon3, A. D. Gruber4, J. van den Heuvel3, D. W. Heinz3, A. Lengeling2, and W.-D. Schubert1
1 Molecular Host-Pathogen Interactions, Division of Structural Biology, Helmholtz Centre for Infection Research, Inhoffenstrasse 7, D-38124 Braunschweig, Germany
2 Infection Genetics, Division of Microbiology, Helmholtz Centre for Infection Research, Inhoffenstrasse 7, D-38124 Braunschweig, Germany
3 Division of Structural Biology, Helmholtz Centre for Infection Research, Inhoffenstrasse 7, D-38124 Braunschweig, Germany
4 Department of Veterinary Pathology, Free University of Berlin, Robert-von-Ostertag-Strasse 15, D-14163, Berlin, Germany
Abstract
The food-borne pathogen Listeria monocytogenes has co-evolved with and adapted to humans such that it specifically recognizes human E-cadherin through its invasion protein Internalin (InlA). Individual amino acid substitutions in murine E-cadherin are sufficient to avoid recognition by InlA, effectively preventing mice from being infected by the oral route. We have extended the host range of L. monocytogenes by structure-based re-engineering of InlA. Based on the crystal structure of the InlA / human E-cadherin complex, we have identified regions of poor complementarity between both proteins. Two rationally chosen point mutations improve complementarity and enhance binding affinity of InlA for human E-cadherin 6700-fold allowing murine E-cadherin to be recognized with a binding affinity similar to that of wild-type InlA for human E-cadherin.
As murine E-cadherin is not recognized by wild-type InlA, L. monocytogenes do not cause a lethal infection in a majority of orally infected mice. By contrast, a mutant strain of L. monocytogenes that carries both mutations infects mice ~104-fold more efficient. Our results indicate that subtle atomic changes in protein interfaces can increase binding affinity and in turn influence entire biological systems, namely the host specificity of L. monocytogenes.
Reference
Wollert, T., Pasche, B., Rochon, M., Deppenmeier, S., van den Heuvel, J., Gruber, A. D., Heinz, D. W., Lengeling, A., and Schubert, W. D. (2007). Extending the Host Range of Listeria monocytogenes by Rational Protein Design. Cell 129, 891-902
Wollert, T., Heinz, D. W., and Schubert, W. D. (2007). Thermodynamically reengineering the listerial invasion complex InlA/E-cadherin. Proc.Natl.Acad.Sci.U.S.A 104, 13960-13965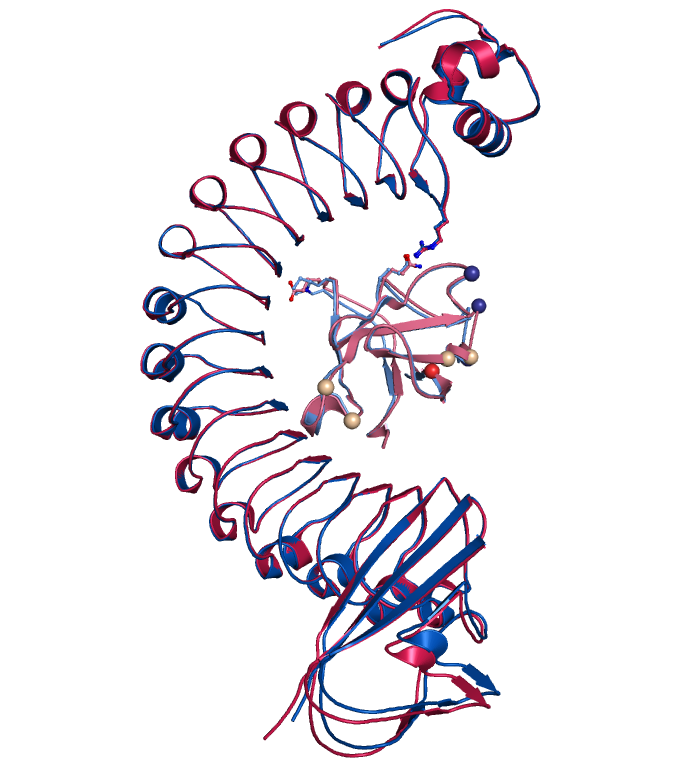 Figure 1. Comparison of InlA/hEC1 (human, blue) and InlAm/mEC1 (murine, red) complexes. Critical substitutions between human and murine EC1 domains are shown as ball-and-stick, solvent-exposed substitutions as spheres (differences involving charged residues are marked in red and blue, all others in beige).