Structure of the month
Nature 477, 556–560 (29 September 2011)

Crystal structure of nucleotide-free dynamin.
Katja Faelber1, York Posor2#, Song Gao1,2#, Martin Held3#, Yvette Roske1#, Dennis Schulze1, Volker Haucke2, Frank Noé3 & Oliver Daumke1,4.
1 Crystallography, Max-Delbrück-Centrum for Molecular Medicine, Robert-Rössle-Straße 10, 13125 Berlin, Germany
2 Institute for Chemistry and Biochemistry, Freie Universität Berlin, Takustraße 6, 14195 Berlin, Germany
3 Institute for Mathematics, Freie Universität Berlin, Arnimallee 6, 14195 Berlin, Germany.
4 Institute for Medical Physics and Biophysics, Charité, Ziegelstraße 5-9, 10117 Berlin, Germany
# These authors contributed equally to this work
Abstract
Dynamin is a mechanochemical GTPase that oligomerizes around the neck of clathrin-coated pits and catalyses vesicle scission in a GTP-hydrolysis-dependent manner. The molecular details of oligomerization and the mechanism of the mechanochemical coupling are currently unknown. Here we present the crystal structure of human dynamin 1 in the nucleotide-free state with a four-domain architecture comprising the GTPase domain, the bundle signalling element, the stalk and the pleckstrin homology domain. Dynamin 1 oligomerized in the crystals via the stalks, which assemble in a criss-cross fashion. The stalks further interact via conserved surfaces with the pleckstrin homology domain and the bundle signalling element of the neighbouring dynamin molecule. This intricate domain interaction rationalizes a number of disease-related mutations in dynamin 2 and suggests a structural model for the mechanochemical coupling that reconciles previous models of dynamin function.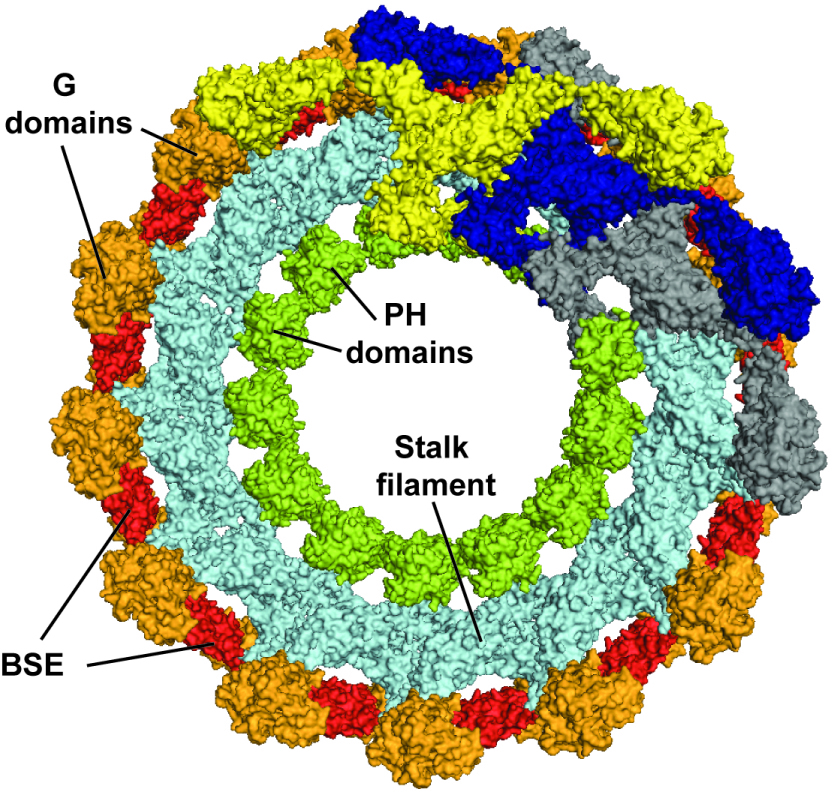 Figure 2.
Model of oligomerized dynamin in the constricted state. G domains, BSEs, stalks and PH domains were fitted into a cryo-EM map (Mears, J. A. et al. Structure 15, 1190–1202 (2007)). Three dimeric building blocks are colored uniformly in yellow, blue and gray to show the spread of the 260 Å long dynamin dimer over 95° of a dynamin turn as well as the interaction of two neighboring turns via G domain - G domain contacts. Whereas thirteen stalk dimers complete one turn, the G domain of dimer (i) associates with the G domain of dimer (i+10).