Structure of the month - September 2009
Science Vol. 324, 2009, Pages 1087-1091
Crystal Structure of the Nuclear Export Receptor CRM1 in Complex with Snurportin1 and RanGTP
Thomas Monecke,1† Thomas Güttler,2† Piotr Neumann,1 Achim Dickmanns,1 Dirk Görlich,2‡ Ralf Ficner1
1Abteilung für Molekulare Strukturbiologie, Institut für Mikrobiologie und Genetik, GZMB, Georg-August-Universität Göttingen, Justus-von-Liebig Weg 11, 37077 Göttingen, Germany.
2Abteilung Zelluläre Logistik, Max-Planck-Institut für Biophysikalische Chemie, Am Faßberg 11, 37077 Göttingen, Germany.
† These authors contributed equally to this work.
‡ Correspondence E-mail: goerlich@mpibpc.mpg.de.
Abstract
Nuclear transport proceeds through nuclear pore complexes and supplies cell nuclei with proteins and the cytoplasm with nuclear products such as ribosomes or tRNAs. Most nuclear transport pathways are mediated by importin β-type nuclear transport receptors, which include nuclear export receptors (exportins), as well as importins.
The exportin CRM1 mediates nuclear export of numerous structurally and functionally unrelated cargoes, which carry a short leucine-rich nuclear export signal (NES) or complex export determinants. How CRM1 recognizes such a variety of cargoes and maintains versatility and specificity has been unknown so far. Here we present the 2.5 Å crystal structure of the nuclear export complex comprising the exportin CRM1, the export cargo snurportin1 (SPN1) as well as the molecular switch Ran in its GTP bound form.
CRM1 exhibits a toroid-like overall structure that engulfs the Ran molecule and binds SPN1 through its outer surface. Three parts of SPN1 contact CRM1: The N-terminus of SPN1 resembling a canonical nuclear export signal (NES), the m3G-cap binding domain and the C-terminal tail. RanGTP is enwrapped mainly by the N-terminal part of CRM1 and additionally fixed by the acidic loop of CRM1. The structure shows how CRM1 can specifically return the RNA-free form of SPN1 to the cytoplasm and suggests that RanGTP promotes cargo-binding to CRM1 solely through long-range conformational changes in the exportin.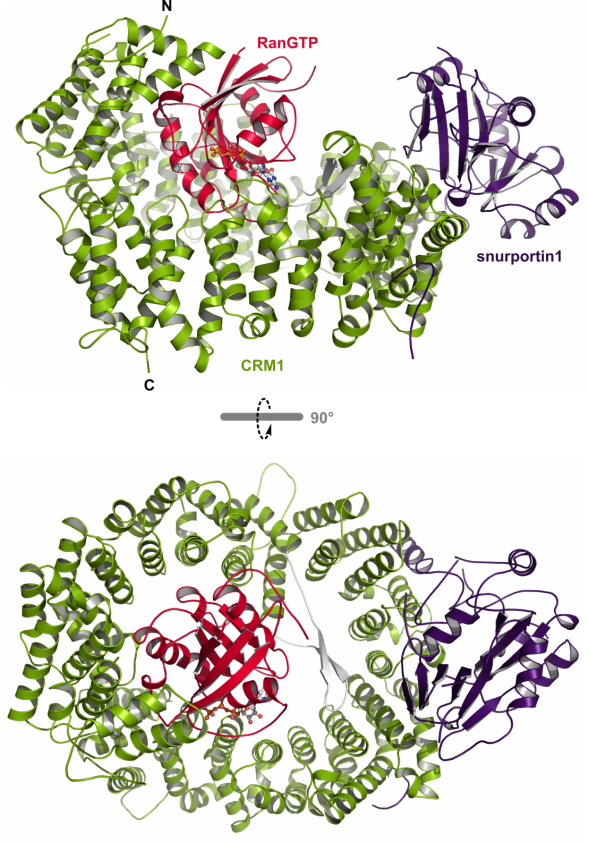 Figure 1. Structure of the SPN1⋅CRM1⋅RanGTP nuclear export complex. Two perpendicular views of the complex in cartoon representation are depicted. CRM1 adopts an overall toroid like structure and is colored in green. RanGTP (red) is engulfed mainly by the N-terminal part and additionally bound by the acidic loop (white) of CRM1. The Ran-bound GTP molecule is depicted in ball-and-stick mode (grey carbons). SPN1 (purple) is bound far away from RanGTP on the outer surface of the exportin involving three different parts: The N-terminal helix resembling a canonical NES, the m3G-cap binding domain and a C-terminal portion.