Structure of the month - March 2011
Nat. Struct. Mol. Biol. Vol. 18(2), 191-7 (2011)

Structure of UvrA nucleotide excision repair protein in complex with modified DNA
Marcin Jaciuk¹, Elzbieta Nowak¹, Krzysztof Skowronek², Anna Tanska¹, Marcin Nowotny¹

¹ Laboratory of Protein Structure and ²Laboratory of Bioinformatics and Protein Engineering
International Institute of Molecular and Cell Biology, 4 Trojdena Street, 02-109, Warsaw, Poland

* email: mnowotny@iimcb.gov.pl
Abstract
Nucleotide Excision Repair (NER) is one of the primary pathways of DNA repair. Its key feature is the ability to recognize a wide range of DNA lesions of various chemical structures. UvrA is the first component bacterial NER. It is a dimeric ATPase from ABC family and its role is to locate the site of damage. The mechanism behind lesion detection was not clear and in order to elucidate it, we solved the first crystal structure of UvrA in complex with modified DNA. For crystallization we used DNA oligonucleotides that contained a fluorescein-modified thymine. This type of artificial modification is efficiently processed by bacterial NER. To obtain protein-DNA crystals it was essential to use DNA duplexes with palindromic sequence. Such duplexes are two-fold symmetric reflecting the symmetry of the UvrA dimer. The X-ray diffraction data to 2.9 Ǻ resolution were collected at BESSY beamline 14-1. The structure was solved by molecular replacement.
In the structure the DNA is bound in a cleft running across UvrA dimer. All of the interactions are mediated by the backbone of the DNA and occur almost exclusively in the terminal regions of the duplex on both sides of the modification. The DNA in the complex is deformed – the double helix is bent, stretched in the middle and unwound. Such deformations are often observed in damaged DNAs in free form. Only the deformed conformation of the DNA is complementary with the surface of UvrA. Therefore, the protein appears to detect the presence of the DNA modification through sensing of the deformations of the double helix.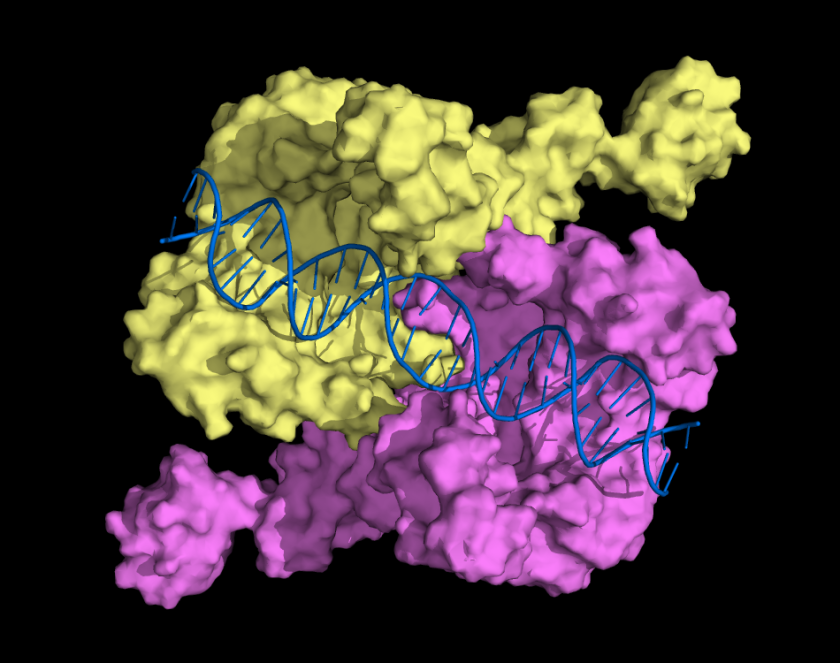 Figure 1. Structure of UvrA dimer in complex with modified DNA. The protein is shown in surface representation and the two subunits of the dimer are colored in yellow and pink. The DNA is shown in blue ladder representation. The stretching of the middle portion of the double helix is apparent. It is accompanied by the unwinding of the DNA.