Institute Silicon Photovoltaics
NextBase: Next-generation interdigitated back-contacted silicon heterojunction solar cells and modules by design and process innovations
The NextBase project aims at developing innovative high performance c-Si solar cells and modules based on the interdigitated back-contacted silicon heterojunction (IBC-SHJ) solar cell concept.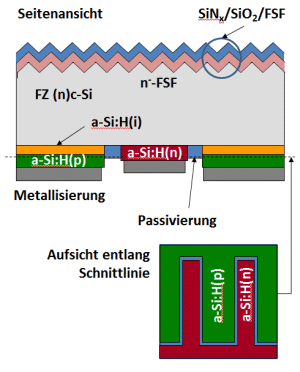 Sketch of a rear contact a-Si:H/c-Si heterojunction solar cell with interdigitated contacts: Vertical cross section of the cell, and horizontal cross section through the contact layers on the cell's rear side.
Goals
Project goals are solar cells with efficiencies above 26.0% and corresponding solar modules with efficiencies above 22.0%. At the same time, the NextBase project pursues the development of a new industrial manufacturing tool and low-cost processes enabling a competitive IBC-SHJ solar module cost of <0.35 €/Wp.
Within the project, HZB develops both photolithography based (testing & referencing) and laser & screen-printing based (industry compatible) concepts for SHJ cells. Furthermore, new low contact-resistance materials/carrier selective contacts are developed, materials are characterized, and numerical simulations are performed in 1D and 2D.
Partner
The project consortium comprises 14 partners from 8 European countries:
Forschungszentrum Jülich GmbH, Germany
Centre Suisse d'Electronique et de Microtechnique SA, Switzerland
Interuniversitair Micro-Electronica Centrum VZW, Belgium
Helmholtz-Zentrum Berlin für Materialen und Energie GmbH GmbH (Institutes silicon photovoltaics and PVcomB), Germany
Ecole Polytechnique Fédérale de Lausanne, Switzerland
Fraunhofer-Institut für Solare Energiesysteme, Germany
Technische Universiteit Delft, Netherlands
Commissariat à l'énergie atomique et aux énergies alternatives, France
Fyzikalni Ustav AV CR V.V.I, Czech Republic
Meyer Burger Research AG, Switzerland
Enel Green Power, Italy
DSM Andvanced Surfaces BV, Netherlands
Norwegian Crystals, Norway
Uniresearch BV, Netherlands
The NextBase project has received funding from the European Union's Horizon2020 Programme for research, technological development and demonstration under Grant Agreement no. 727523.