UE112_PGM-2b-1^3
UE112_PGM-2b-1^3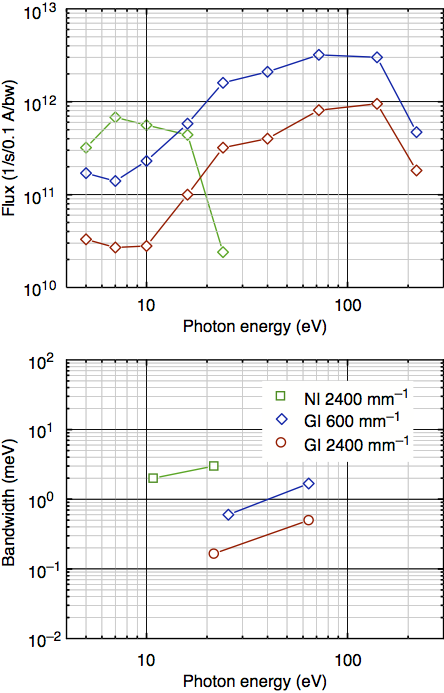 Flux and bandwidth with various gratings
Station data
Temperature range
1 - 50 K
Pressure range
For details contact the station manager.
More details
ARPES One-Cube
Beamline data
Segment
H13
Location (Pillar)
14.2
Source
UE112 (Elliptical Undulator)
Monochromator
PGM 2
Energy range
4 - 200 eV
Energy resolution
< 1 meV for E < 100 eV
Flux
>1013 (photons/s/0.1%bw/100 mA)
Polarisation
• linear any angle
• circular
Divergence horizontal
1 mrad
Divergence vertical
3 mrad
Focus size (hor. x vert.)
--
User endstation
not possible
Distance Focus/last valve
814 mm
Height Focus/floor level
1757 mm
Beam availability
12h/d
Phone
+49 30 8062 14696
This low energy beamline serves the permanent stations for angle-resolved photoelectron spectroscopy, 13 and 12 ARPES. It is designed to deliver a high flux of photons with very high energy resolution in the range from 5 to 250 eV. In addition to its normal operation with grazing incidence angles, the monochromator also offers a normal indcidence option to retain flux and polarization at the lowest energies.
The monochromated beam branches into two lines to serve the 12 (left) and 13 (right) setups. The latter has a focus of 250 µm.
For more details and current status contact the beamline manager.