Institute Methods and Instrumentation for Synchrotron Radiation Research
Uppsala Berlin Joint Laboratory (UBjL)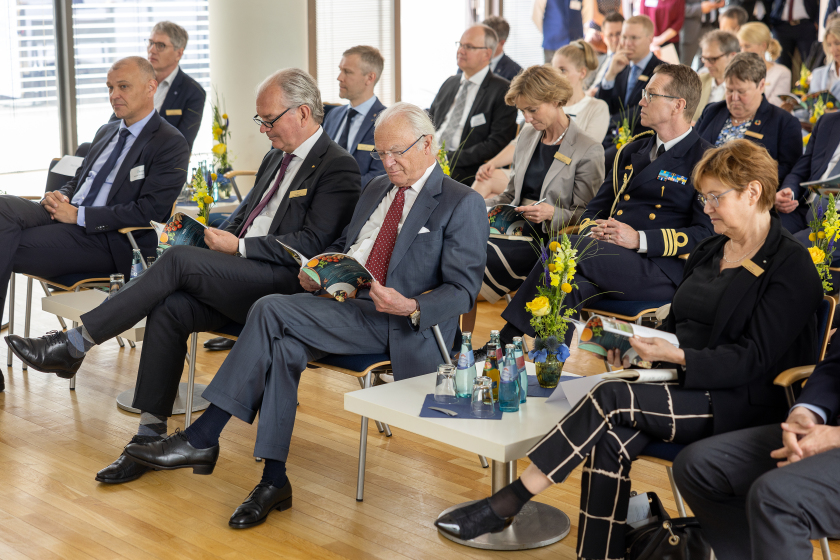 M.Setzpfandt/HZB
On May 11th, 2022, the Royal Technology Mission (RTM) was a guest at HZB. Since 1984, the Royal Swedish Academy of Engineering (IVA) has regularly conducted international delegation trips. It is led by the King of Sweden and the Chairman of the IVA. In the BESSY II lecture hall: H.M. King Carl XVI Gustaf and the Ambassador of Sweden to Germany H.E. Per Thöresson.
Uppsala Berlin joint Laboratory (UBjL)
Uppsala Berlin joint Laboratory (UBjL)
The Uppsala Berlin joint Laboratory for next generation electron spectroscopy (UBjL) is the close link between the Department of Physics and Astronomy of Uppsala University and the Institute for Methods and Instrumentation for Synchrotron Radiation Research at the Helmholtz-Zentrum Berlin GmbH. UBjLs aim is to increase the efficiency of electron spectroscopy by orders of magnitude and providing two complementary world-leading experimental stations to the international scientific community. To this end, UBjL develops and combines angle resolved time of flight (ARTOF) detectors with dedicated tailored Synchrotron pulses at BESSY II. Funding is provided by the Helmholtz-Association, the BMBF and Prof. Mårtenssons ERC advanced grant. UBjL allows for sensitive materials characterization at lowest X-ray dose, for time resolved studies following laser excitation and for complete experiments with coincidence detection.
Inauguration ceremony
On October 9, 2015, the inauguration ceremony took place in Berlin. The Swedish ambassador Lars Danielson pushed the button to let light into the new endstations under the applause of the founding professors, the HZB directorate, the beamline scientists as well as other guests from our division and HZB.
The UBjL Stations at BESSY II
UBjL is driving two experimental endstations at the synchrotron radiation source BESSY II: the Low Dose Photoemission endstation at the dipole beamline PM4 as well as the Coincidence Electron Spectroscopy for Chemical Analysis endstation at the undulator beamline U52.
The LowDosePES endstation is equipped with an ArTOF spectrometer and a hemispherical electron analyser, which can be used independently to perform angle-resolved or high resolution studies on radiation sensitive materials. A custom built MHz mechanical chopper system has been developed and is in continuous use at the PM4 to produce 1,25 MHz Synchrotron bunches to drive the high transmission ArTOF analyser. A Fentosecond optical Laser system is synchronized to study the temporal evolution of optically excited materials such as photovoltaic or photocatalytic systems.
The CoESCA endstation is equipped with two ArTOF spectrometers in order to allow for angle-resolved electron coincidence studies on solids. CoESCA receives tailored Synchrotron pulses through the "Pulse Picking by Resonant Excitation (PPRE)" light generation scheme, developed at BESSY II for UBjL. Coincidence detection determines electron correlations in solids, highest surface sensitivity as well as chemical state separation of partly overlapping chemical species. It is currently expanded also by a synchronized MHz optical Laser system for dynamic investigation.
UBjL Steering Panel
Uppsala University
Prof. Håkan Rensmo
Assoc. Prof. Andreas Lindblad
Emeriti
Prof. Nils Mårtensson
Prof. Svante Svensson


Helmholtz-Zentrum Berlin
Prof. Alexander Föhlisch
Publications (2015 -2021)
· Andersson, E.K.W.; Sangeland, C.; Berggren, E.; Johansson, F.O.L.; Kühn, D.; Lindblad, A.; Mindemark, J.; Hahlin, M.: Early-stage decomposition of solid polymer electrolytes in Li-metal batteries. Journal of Materials Chemistry A 9 (2021), p. 22462-22471
doi: 10.1039/d1ta05015j
· Born, A.; Johansson, F.O.L.; Leitner, T.; Kühn, D.; Lindblad, A.; Mårtensson, N.; Föhlisch, A.: Separation of surface oxide from bulk Ni by selective Ni 3p photoelectron spectroscopy for chemical analysis in coincidence with Ni M-edge Auger electrons. Scientific Reports 11 (2021), p. 16596/1-7
doi: 10.1038/s41598-021-96108-x
· Born, A.; Leitner, T.; Bidermane, I.; Ovsyannikov, R.; Svensson, S.; Martensson, N.; Foehlisch, A.: Quantification of Ni L2,3 core-hole relaxation pathways utilizing Auger photoelectron coincidence spectroscopy. Physical Review B 103 (2021), p. 115121/1-6
doi: 10.1103/physrevb.103.115121
· Johansson, Fredrik: Core-hole Clock Spectroscopy Using Hard X-rays: Exciting States in Condensed Matter. , 2020
U Uppsala, Sweden
https://uu.diva-portal.org/smash/get/diva2:1416922/FULLTEXT01.pdf
· Leitner, T.; Born, A.; Bidermane, I.; Ovsyannikov, R.; Johansson, F.O.L.; Sassa, Y.; Föhlisch, A.; Lindblad, A.; Schumann, F.O.; Svensson, S.; Mårtensson, N.: The CoESCA station at BESSY: Auger electron¿photoelectron coincidences from surfaces demonstrated for Ag MNN. Journal of Electron Spectroscopy and Related Phenomena 250 (2021), p. 147075/1-7
doi: 10.1016/j.elspec.2021.147075
· Richter, Clemens: Investigation of Local and Non-Local Autoionization in Aqueous Systems. , 2020
Freie Universität Berlin, Fachbereich Physik
https://refubium.fu-berlin.de/handle/fub188/31980
· Sorgenfrei, N.L.A.N.; Giangrisostomi, E.; Jay, R.M.; Kühn, D.; Neppl, S.; Ovsyannikov, R.; Sezen, H.; Svensson, S.; Föhlisch, A.: Frontispiez: Molybdenum Disulfide: Photodriven Transient Picosecond Top-Layer Semiconductor to Metal Phase-Transition in p-Doped Molybdenum Disulfide. Advanced Materials 33 (2021)
doi: 10.1002/adma.202170108
· Stråhlman, Christian: Time-of-Flight Ion and Electron Spectroscopy: Applications and Challenges at Storage Ring Light Sources. , 2016
Lunds universitet, Diss.
https://lup.lub.lu.se/search/publication/57e4547b-5556-4d11-9736-a2a30a896671
· Akaike, K.; Koch, N.; Heimel, G.; Oehzelt, M.: The Impact of Disorder on the Energy Level Alignment at Molecular Donor-Acceptor Interfaces. Advanced Materials Interfaces 2 (2015), p. 1500232/1-6
doi: 10.1002/admi.201500232
· Amsalem, P.; Heimel, G.; Oehzelt, M.; Koch, N.: The interface electronic properties of organic photovoltaic cells. Journal of Electron Spectroscopy and Related Phenomena 204 (2015), p. 177-185
doi: 10.1016/j.elspec.2015.02.012
· Anger, F.; Glowatzki, H.; Franco-Cañellas, A.; Bürker, C.; Gerlach, A.; Scholz, R.; Sakamoto, Y.; Suzuki, T.; Koch, N.; Schreiber, F.: Interface dipole and growth mode of partially and fully fluorinated rubrene on Au(111) and Ag(111). The Journal of Physical Chemistry C 119 (2015), p. 6769–6776
doi: 10.1021/jp511822g
· Balle, D.; Adler, H.; Grüninger, P.; Karstens, R.; Ovsyannikov, R.; Giangrisostomi, E.; Chassé, T.; Peisert, H.: Influence of the Fluorination of CoPc on the Interfacial Electronic Structure of the Coordinated Metal Ion. The Journal of Physical Chemistry C 121 (2017), p. 18564-18574
doi: 10.1021/acs.jpcc.7b04494
· Belova, V.; Beyer, P.; Meister, E.; Linder, T.; Halbich, M.-U.; Gerhard, M.; Schmid, S.; Zeche, T.; Meisel, T.; Generalov, A.V.; Anselmo, A.S.; Scholz, R.; Konovalov, O.; Gerlach, A.; Koch, M.; Hinderhofer, A.; Opitz, A.; Bruetting, W.; Schreibert, F.: Evidence for Anisotropic Electronic Coupling of Charge Transfer States in Weakly Interacting Organic Semiconductor Mixtures. Journal of the American Chemical Society 139 (2017), p. 8474-8486
doi: 10.1021/jacs.7b01622
· Belser, A.; Greulich, K.; Grüninger, P.; Karstens, R.; Ovsyannikov, R.; Giangrisostomi, E.; Nagel, P.; Merz, M.; Schuppler, S.; Chassé, T.; Peisert, H.: Perfluorinated Phthalocyanines on Cu(110) and Cu(110)-(2 x 1)O: The Special Role of the Central Cobalt Atom. The Journal of Physical Chemistry C 125 (2021), p. 8803-8814
doi: 10.1021/acs.jpcc.1c01215
· Belser, A.; Greulich, K.; Sättele, M.S.; Fingerle, M.; Ovsyannikov, R.; Giangrisostomi, E.; Chassé, T.; Peisert, H.: Interface Properties of CoPc on Nanographene-Covered Au(111) and the Influence of Annealing. Langmuir 37 (2021), p. 10750-10761
doi: 10.1021/acs.langmuir.1c01438
· Brendel, M.; Krause, S.; Steindamm, A.; Topczak, A.K.; Sundarraj, S.; Erk, P.; Höhla, S.; Fruehauf, N.; Koch, N.; Pflaum, J.: The Effect of Gradual Fluorination on the Properties of FnZnPc Thin Films and FnZnPc/C-60 Bilayer Photovoltaic Cells. Advanced Functional Materials 25 (2015), p. 1565-1573
doi: 10.1002/adfm.201404434
· Calzolari, A.; Rajca, A.; Casu, M.B.: From radical to triradical thin film processes: the Blatter radical derivatives. Journal of Materials Chemistry C 9 (2021), p. 10787-10793
doi: 10.1039/d1tc01541a
· Cappel, U.B.; Liu, P.; Johansson, F.O.L.; Philippe, B.; Giangrisostomi, E.; Ovsyannikov, R.; Lindblad, A.; Kloo, L.; Gardner, J.M.; Rensmo, H.: Electronic Structure Characterization of Cross-Linked Sulfur Polymers. ChemPhysChem 19 (2018), p. 1041-1047
doi: 10.1002/cphc.201800043
· Cappel, U.B.; Svanstrom, S.; Lanzilotto, V.; Johansson, F.O.L.; Aitola, K.; Philippe, B.; Giangrisostomi, E.; Ovsyannikov, R.; Leitner, T.; Foehlisch, A.; Svensson, S.; Martensson, N.; Boschloo, G.; Lindblad, A.; Rensmo, H.: Partially Reversible Photoinduced Chemical Changes in a Mixed-Ion Perovskite Material for Solar Cells. ACS Applied Materials & Interfaces 9 (2017), p. 34970-34978
doi: 10.1021/acsami.7b10643
· Cerra, S.; Fontana, L.; Rossi, E.; Bassetti, M.; Battocchio, C.; Venditti, I.; Carlini, L.; Matassa, R.; Familiari, G.; Fratoddi, I.: Binuclear organometallic Pt(II) complexes as stabilizing ligands for gold and silver metal nanoparticles. Inorganica Chimica Acta 516 (2021), p. 120170/1-11
doi: 10.1016/j.ica.2020.120170
· Christodoulou, C.; Giannakopoulos, A.; Ligorio, G.; Oehzelt, M.; Tirnpel, M.; Niederhausen, J.; Pasquali, L.; Giglia, A.; Parvez, K.; Müllen, M.; Beljonne, D.; Koch, N.; Nardi, M.V.: Tuning the Electronic Structure of Graphene by Molecular Dopants: Impact of the Substrate. ACS Applied Materials & Interfaces 7 (2015), p. 19134-19144
doi: 10.1021/acsami.5b04777
· De Sousa, J.; Bejarano, F.; Gutiérrez, D.; Leroux, Y.; Nowik-Boltyk, E.; Junghoefer, T.; Giangrisostomi, E.; Ovsyannikov, R.; Casu, M.; Veciana, J.; Mas-Torrent, M.; Fabre, B.; Rovira, C.; Crivillers, N.: Exploiting the versatile alkyne-based chemistry for expanding the applications of a stable triphenylmethyl organic radical on surfaces. Chemical Science 11 (2020), p. 516-524
doi: 10.1039/c9sc04499j
· Gallagher, N.; Zhang, H.; Junghoefer, T.; Giangrisostomi, E.; Ovsyannikov, R.; Pink, M.; Rajca, S.; Casu, M.B.; Rajca, A.: Thermally and Magnetically Robust Triplet Ground State Diradical. Journal of the American Chemical Society 141 (2019), p. 4764-4774
doi: 10.1021/jacs.9b00558
· Giangrisostomi, E.; Ovsyannikov, R.; Sorgenfrei, F.; Zhang, T.; Lindblad, A.; Sassa, Y.; Cappel, U.; Leitner, T.; Mitzner, R.; Svensson, S.; Mårtensson, N.; Föhlisch, A.: Low Dose Photoelectron Spectroscopy at BESSY II: Electronic structure of matter in its native state. Journal of Electron Spectroscopy and Related Phenomena 224 (2018), p. 68-78
doi: 10.1016/j.elspec.2017.05.011
· Glaser, M.; Ciccullo, F.; Giangrisostomi, E.; Ovsyannikov, R.; Calzolari, A.; Casu, M.: Doping and oxidation effects under ambient conditions in copper surfaces: a "real-life'' CuBe surface. Journal of Materials Chemistry C 6 (2018), p. 2769-2777
doi: 10.1039/C7TC04983H
· Goetz, K.P.; Iqbal, H.F.; Bittle, E.G.; Hacker, C.A.; Pookpanratana, S.; Jurchescu, O.D.: Organic single crystals of charge-transfer complexes: model systems for the study of donor/acceptor interactions. Materials Horizons 9 (2022), p. 271-280
doi: 10.1039/d1mh01214b
· Greulich, K.; Belser, A.; Bölke, S.; Grüninger, P.; Karstens, R.; Sättele, M.S.; Ovsyannikov, R.; Giangrisostomi, E.; Basova, T.V.; Klyamer, D.; Chassé, T.; Peisert, H.: Charge Transfer from Organic Molecules to Molybdenum Disulfide: Influence of the Fluorination of Iron Phthalocyanine. The Journal of Physical Chemistry C 124 (2020), p. 16990-16999
doi: 10.1021/acs.jpcc.0c03862
· Grüninger, P.; Greulich, K.; Karstens, R.; Belser, A.; Ovsyannikov, R.; Giangrisostomi, E.; Bettinger, H.F.; Batchelor, D.; Peisert, H.; Chassé, T.: Highly Oriented Hexacene Molecules Grown in Thin Films on Cu(110)-(2 × 1)O. The Journal of Physical Chemistry C 123 (2019), p. 27672-27680
doi: 10.1021/acs.jpcc.9b08837
· Grüninger, P.; Polek, M.; Ivanovic, M.; Balle, D.; Karstens, R.; Nagel, P.; Merz, M.; Schuppler, S.; Ovsyannikov, R.; Bettinger, H.; Peisert, H.; Chassé, T.: Electronic Structure of Hexacene and Interface Properties on Au(110). The Journal of Physical Chemistry C 122 (2018), p. 19491-19498
doi: 10.1021/acs.jpcc.8b04274
· Holldack, K.; Ovsyannikov, R.; Kuske, P.; Müller, R.; Schälicke, A.; Scheer, M.; Gorgoi, M.; Kühn, D.; Leitner, T.; Svensson, S.; Martensson, N.; Föhlisch, A.: Single bunch X-ray pulses on demand from a multi-bunch synchrotron radiation source. Nature Communications 5 (2014), p. 4010/1-7
doi: 10.1038/ncomms5010
· Ito, Y.; Christodoulou, C.; Nardi, M.V.; Koch, N.; Klaeui, M.; Sachdev, H.; Muellen, K.: Tuning the Magnetic Properties of Carbon by Nitrogen Doping of Its Graphene Domains. Journal of the American Chemical Society 137 (2015), p. 7678-7685
doi: 10.1021/ja512897m
· Junghoefer, T.; Calzolari, A.; Baev, I.; Glaser, M.; Ciccullo, F.; Giangrisostomi, E.; Ovsyannikov, R.; Kielgast, F.; Nissen, M.; Schwarz, J.; Gallagher, N.M.; Rajca, A.; Martins, M.; Casu, M.B.: Magnetic behavior in metal-free radical thin films. Chem 8 (2022), p. 801-814
doi: 10.1016/j.chempr.2021.11.021
· Junghoefer, T.; Gallagher, N.M.; Kolanji, K.; Giangrisostomi, E.; Ovsyannikov, R.; Chassé, T.; Baumgarten, M.; Rajca, A.; Calzolari, A.; Casu, M.B.: Challenges in Controlled Thermal Deposition of Organic Diradicals. Chemistry of Materials 33 (2021), p. 2019-2028
doi: 10.1021/acs.chemmater.0c03880
· Junghoefer, T.; Nowik-Boltyk, E.M.; De Sousa, J.A.; Giangrisostomi, E.; Ovsyannikov, R.; Chass, T.; Veciana, J.; Mas-Torrent, M.; Rovira, C.; Crivillers, N.; Casu, M.B.: Stability of radical-functionalized gold surfaces by self-assembly and on-surface chemistry. Chemical Science 11 (2020), p. 9162-9172
doi: 10.1039/d0sc03399e
· Junghöfer, Tobias Maximilian: From Radicals to Triradicals: Soft x-ray Investigations of Thin Films and self-assembled Monolayers. , 2021
Universität Tübingen
· Karstens, R.; Glaser, M.; Belser, A.; Balle, D.; Polek, M.; Ovsyannikov, R.; Giangrisostomi, E.; Chassé, T.; Peisert, H.: FepC and FepCF16 on rutile TiO2(110) and (100): Influence of the substrate preparation on the interaction strength. Molecules 24 (2019), p. 4579/1-20
doi: 10.3390/molecules24244579
· Klein, B.P.; van der Heijden, N.J.; Kachel, S.R.; Franke, M.; Krug, C.K.; Greulich, K.K.; Ruppenthal, L.; Mueller, P.; Rosenow, P.; Parhizkar, S.; Bocquet, F.C.; Schmid, M.; Hieringer, W.; Maurer, R.J.; Tonner, R.; Kumpf, C.; Swart, I.; Gottfried, J.M.: Molecular Topology and the Surface Chemical Bond: Alternant Versus Nonalternant Aromatic Systems as Functional Structural Elements. Physical Review X 9 (2019), p. 011030/1-17
doi: 10.1103/PhysRevX.9.011030
· Lanzilotto, V.; Silva, J.; Zhang, T.; Stredansky, M.; Grazioli, C.; Simonov, K.; Giangrisostomi, E.; Ovsyannikov, R.; De Simone, M.; Coreno, M.; Araujo, C.; Brena, B.; Puglia, C.: Spectroscopic Fingerprints of Intermolecular H-Bonding Interactions in Carbon Nitride Model Compounds. Chemistry - A European Journal 24 (2018), p. 14198-14206
doi: 10.1002/chem.201802435
· Ligorio, G.; Nardi, M.V.; Christodoulou, C.; Koch, N.: Organic Semiconductor/Gold Interface Interactions: From Physisorption on Planar Surfaces to Chemical Reactions with Metal Nanoparticles. ChemPhysChem 16 (2015), p. 2602-2608
doi: 10.1002/cphc.201500337
· Man, G.J.; Sterling, C.M.; Kamal, C.; Simonov, K.A.; Svanström, S.; Acharya, J.; Johansson, F.O.L.; Giangrisostomi, E.; Ovsyannikov, R.; Huthwelker, T.; Butorin, S.M.; Nayak, P.K.; Odelius, M.; Rensmo, H.: Electronic coupling between the unoccupied states of the organic and inorganic sublattices of methylammonium lead iodide: A hybrid organic-inorganic perovskite single crystal. Physical Review B 104 (2021), p. L041302/1-6
doi: 10.1103/PhysRevB.104.L041302
· Marks, K.; Yazdi, M.G.; Piskorz, W.; Simonov, K.; Stefanuik, R.; Sostina, D.; Guarnaccio, A.; Ovsyannikov, R.; Giangrisostomi, E.; Sassa, Y.; Bachellier, N.; Muntwiler, M.; Johansson, F.O.L.; Lindblad, A.; Hansson, T.; Kotarba, A.; Engvall, K.; Gothelid, M.; Harding, D.J.; Ostrom, H.: Investigation of the surface species during temperature dependent dehydrogenation of naphthalene on Ni(111). The Journal of Chemical Physics 150 (2019), p. 244704/1-8
doi: 10.1063/1.5098533
· Méndez, H.; Heimel, G.; Winkler, S.; Frisch, J.; Opitz, A.; Sauer, K.; Wegner, B.; Oehzelt, M.; Röthel, C.; Duhm, S.; Többens, D.; Koch, N.; Salzmann, I.: Charge-transfer crystallites as molecular electrical dopants. Nature Communications 6 (2015), p. 8560/1-11
doi: 10.1038/ncomms9560
· Niederhausen, J.; MacQueen, R.W.; Özkol, E.; Gersmann, C.; Futscher, M.H.; Liebhaber, M.; Friedrich, D.; Borgwardt, M.; Mazzio, K.A.; Amsalem, P.; Nguyen, M.H.; Daiber, B.; Mews, M.; Rappich, J.; Ruske, F.; Eichberger, R.; Ehrler, B.; Lips, K.: Energy-level Alignment Tuning at Tetracene/c-Si Interfaces. The Journal of Physical Chemistry C 124 (2020), p. 27867–27881
doi: 10.1021/acs.jpcc.0c08104

· Parinova, E.V.; Marchenko, D.; Fedotov, A.K.; Koyuda, D.A.; Fedotova, Y.A.; Ovsyannikov, R.; Turishchev, S.Y.: Spectromicroscopic studies of porous silicon oxide on silicon using synchrotron radiation. Kondensirovannye sredy i mezhfaznye granitsy = Condensed Matter and Interphases 22 (2020), p. 89-96
doi: 10.17308/kcmf.2020.22/2532
· Park, S.; Mutz, N.; Schultz, T.; Blumenstengel, S.; Han, A.; Aljarb, A.; Li, L.-J.; List-Kratochvil, E.; Amsalem, P.; Koch, N.: Direct determination of monolayer MoS2 and WSe2 exciton binding energies on insulating and metallic substrates. 2D Materials 5 (2018), p. 025003/1-8
doi: 10.1088/2053-1583/aaa4ca
· Park, S.; Wang, H.; Schultz, T.; Shin, D.; Ovsyannikov, R.; Zacharias, M.; Maksimov, D.; Meissner, M.; Hasegawa, Y.; Yamaguchi, T.; Kera, S.; Aljarb, A.; Hakami, M.; Li, L.J.; Tung, V.; Amsalem, P.; Rossi, M.; Koch, N.: Temperature-Dependent Electronic Ground-State Charge Transfer in van der Waals Heterostructures. Advanced Materials 33 (2021), p. 2008677/1-9
doi: 10.1002/adma.202008677
· Pookpanratana, S.J.; Goetz, K.P.; Bittle, E.G.; Haneef, H.; You, L.; Hacker, C.A.; Robey, S.W.; Jurchescu, O.D.; Ovsyannikov, R.; Giangrisostomi, E.: Electronic properties and structure of single crystal perylene. Organic Electronics 61 (2018), p. 157-163
doi: 10.1016/j.orgel.2018.05.035
· Schlesinger, R.; Bianchi, F.; Blumstengel, S.; Christodoulou, C.; Ovsyannikov, R.; Kobin, B.; Moudgil, K.; Barlow, S.; Hecht, S.; Marder, S.R.; Henneberger, F.; Koch, N.: Efficient light emission from inorganic and organic semiconductor hybrid structures by energy-level tuning. Nature Communications 6 (2015), p. 6754/1-7
doi: 10.1038/ncomms7754
· Secchi, V.; Iucci, G.; Dettin, M.; Zamuner, A.; De Rosa, S.; Tortora, L.; Battocchio, C.: Cysteine-Modified Self-Assembling Peptides on Gold: The Role of the Head and Tail. Langmuir 35 (2019), p. 16593-16604
doi: 10.1021/acs.langmuir.9b02503
· Sloboda, T.; Svanström, S.; Johansson, F.O.L.; Andruszkiewicz, A.; Zhang, X.; Giangrisostomi, E.; Ovsyannikov, R.; Föhlisch, A.; Svensson, S.; Martensson, N.; Johansson, E.M.J.; Lindblad, A.; Rensmo, H.; Cappel, U.B.: A method for studying pico to microsecond time-resolved core-level spectroscopy used to investigate electron dynamics in quantum dots. Scientific Reports 10 (2020), p. 22438/1-14
doi: 10.1038/s41598-020-79792-z
· Sorgenfrei, N.L.A.N.; Giangrisostomi, E.; Jay, R.M.; Kühn, D.; Neppl, S.; Ovsyannikov, R.; Sezen, H.; Svensson, S.; Föhlisch, A.: Frontispiez: Molybdenum Disulfide: Photodriven Transient Picosecond Top-Layer Semiconductor to Metal Phase-Transition in p-Doped Molybdenum Disulfide. Advanced Materials 33 (2021)
doi: 10.1002/adma.202170108
· Sterling, C.M.; Kamal, C.; Man, G.J.; Nayak, P.K.; Simonov, K.A.; Svanström, S.; García-Fernández, A.; Huthwelker, T.; Cappel, U.B.; Butorin, S.M.; Rensmo, H.; Odelius, M.: Sensitivity of Nitrogen K-Edge X-ray Absorption to Halide Substitution and Thermal Fluctuations in Methylammonium Lead-Halide Perovskites. The Journal of Physical Chemistry C 125 (2021), p. 8360-8368
doi: 10.1021/acs.jpcc.1c02017

· Svanström, S.; Jacobsson, T.; Sloboda, T.; Giangrisostomi, E.; Ovsyannikov, R.; Rensmo, H.; Cappel, U.: Effect of halide ratio and Cs+ addition on the photochemical stability of lead halide perovskites. Journal of Materials Chemistry A 6 (2018), p. 22134-22144
doi: 10.1039/c8ta05795h
· Timpel, M.; Nardi, M.V.; Ligorio, G.; Wegner, B.; Paetzel, M.; Kobin, B.; Hecht, S.; Koch, N.: Energy-Level Engineering at ZnO/Oligophenylene Interfaces with Phosphonate-Based Self-Assembled Monolayers. ACS Applied Materials & Interfaces 7 (2015), p. 11900-11907
doi: 10.1021/acsami.5b01669
· Venditti, I.; Iucci, G.; Fratoddi, I.; Cipolletti, M.; Montalesi, E.; Marino, M.; Secchi, V.; Battocchio, C.: Direct Conjugation of Resveratrol on Hydrophilic Gold Nanoparticles: Structural and Cytotoxic Studies for Biomedical Applications. Nanomaterials 10 (2020), p. 1898/1-19
doi: 10.3390/nano10101898
· Winkler, S.; Amsalem, P.; Frisch, J.; Oehzelt, M.; Heimel, G.; Koch, N.: Probing the energy levels in hole-doped molecular semiconductors. Materials Horizons 2 (2015), p. 427-433
doi: 10.1039/c5mh00023h
· Zellmeier, M.; Rappich, J.; Klaus, M.; Genzel, C.; Janietz, S.; Frisch, J.; Koch, N.; Nickel, N.: Side chain engineering of poly-thiophene and its impact on crystalline silicon based hybrid solar cells. Applied Physics Letters 107 (2015), p. 203301/1-4
doi: 10.1063/1.4935751
· Zhang, T.; Brumboiu, I.; Lanzilotto, V.; Lüder, J.; Grazioli, C.; Giangrisostomi, E.; Ovsyannikov, R.; Sassa, Y.; Bidermane, I.; Stupar, M.; De Simone, M.; Coreno, M.; Ressel, B.; Pedio, M.; Rudolf, P.; Brena, B.; Puglia, C.: Conclusively Addressing the CoPc Electronic Structure: A Joint Gas-Phase and Solid-State Photoemission and Absorption Spectroscopy Study. The Journal of Physical Chemistry C 121 (2017), p. 26372-26378
doi: 10.1021/acs.jpcc.7b08524
· Zhang, X.; Cappel, U.B.; Jia, D.; Zhou, Q.; Du, J.; Sloboda, T.; Svanström, S.; Johansson, F.O.L.; Lindblad, A.; Giangrisostomi, E.; Ovsyannikov, R.; Liu, J.; Rensmo, H.; Gardner, J.M.; Johansson, E.M.J.: Correction to Probing and Controlling Surface Passivation of PbS Quantum Dot Solid for Improved Performance of Infrared Absorbing Solar Cells. Chemistry of Materials 31 (2019), p. 9915/1
doi: 10.1021/acs.chemmater.9b04695
· Zhang, X.; Cappel, U.B.; Jia, D.; Zhou, Q.; Du, J.; Sloboda, T.; Svanström, S.; Johansson, F.O.L.; Lindblad, A.; Giangrisostomi, E.; Ovsyannikov, R.; Liu, J.; Rensmo, H.; Gardner, J.M.; Johansson, E.M.J.: Probing and Controlling Surface Passivation of PbS Quantum Dot Solid for Improved Performance of Infrared Absorbing Solar Cells. Chemistry of Materials 31 (2019), p. 4081-4091
doi: 10.1021/acs.chemmater.9b00742
· Zhang, Y.; Haitjema, J.; Castellanos, S.; Lugier, O.; Sadegh, N.; Ovsyannikov, R.; Giangrisostomi, E.; Johansson, F.O.L.; Berggren, E.; Lindblad, A.; Brouwer, A.M.: Extreme ultraviolet photoemission of a tin-based photoresist. Applied Physics Letters 118 (2021), p. 171903/1-5
doi: 10.1063/5.0047269