Institute Methods and Instrumentation for Synchrotron Radiation Research
Research Topics on Ultrafast Magnetism
Ultrafast magnetism on the timescales of the exchange interaction
Exchange interaction is the strongest and thus the fastest force in magnetism, being ultimately responsible for the ferromagnetic and antiferromagnetic spin ordering. Its characteristic energies cover the range from hundreds of meV to few eV that corresponds to time scales ranging from 100 fs to attoseconds. Therefore, to achieve an ultimately fast magnetization dynamics one needs to find the tools to manipulate the magnetic order on the time scales pertinent to the exchange interaction. This is certainly a difficult task as one needs to photo-excite and element-specifically probe the magnetic system on such ultrashort time scales (see Figure). Employment of such a novel experimental approach, which is available at the Femtoslicing facility, led recently to highly intriguing observations of ultrafast magnetization switching via a transient ferromagnetic state in a material (GdFeCo) with antiferromagnetic coupling of spins.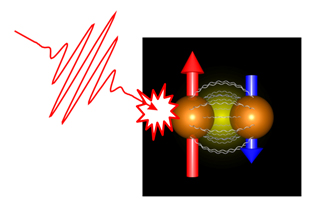 Here we follow a novel line of research that aims at manipulating and controlling the magnetic order on the ultimate fast timescales pertinent to exchange interaction. In particular, we investigate magnetization dynamics on systems governed by exchange interaction of different types and strengths like heterogeneous alloys or exchange-coupled systems.
Selective photo-excitation of quasiparticles using mid-IR and THz radiation and X-ray probing
The overwhelming majority of the time-resolved magnetization dynamics experiments were performed using fs laser pulses in the visible spectral range to pump and probe the transient dynamics of magnetization. However, such an optical excitation generates quasi-instantaneously a strongly non-equilibrium distribution of electrons and subsequently of phonons and magnons and provides only indirect information about the transient evolution of magnetization. In order to disentangle the contributions of the magnons and phonons to the ultrafast magnetization dynamics we employ a novel experimental approach based on:
resonant, selective and direct excitation of the spin and lattice subsystems on their characteristic energy scales (mid-IR to THz spectral range) using fs laser pulses of the proper wavelength
probing the ensuing spin, orbital and charge dynamics with femtosecond time resolution using time-resolved X-ray magnetic dichroism and X-ray scattering
Time-resolved X-ray magnetic dichroism in reflection geometry
So far the majority of the time-resolved XMCD investigations at the Femtoslicing facility were performed in transmission geometry. Although this approach proved to be very powerful, it puts, however, some constrains on the geometry and thickness of the samples to be used. To enlarge the spectrum of samples that can be investigated to, for instance, bulk single-crystals or epitaxially-grown samples on thick substrates we have recently extended our experimental capabilities to reflection geometry. As model systems we investigate the transient magnetization dynamics on magnetic oxides and thin ferromagnetic metallic samples using time-resolved XMCD in reflection geometry.