Process imaging and metallic foams
Imaging tools are great instruments for materials development. New hardware developments provide enough spatial and time resolution for in-situ analysis. Imaging with X-ray and neutrons provides a way to study qualitatively and quantitatively processes in materials science.

Metallic foams are very attractive materials due to their exceptional properties and their industrial relevance. Their analysis and further development needs in-situ methods for the observation of their expansion evolution and macroscopic pore structure. Investigations with photons and neutrons are exceptional instruments for these analyses.
Research topics
Facilities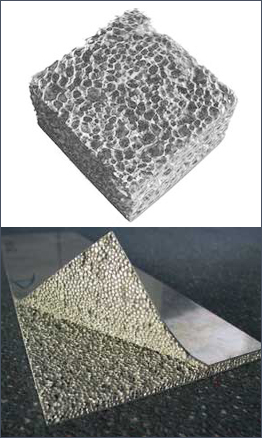 Top: X-ray tomographic cut through a metalic
foam (AFS-Sandwich from ALM GmbH)
Download Video 2,08 MB
Beneath: Metal foam sandwich panel (Karmann)